Lawrence Berson, M.D.
Middlesex Orthopedic Surgeons, PC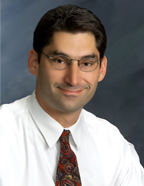 Dr. Lawrence Berson, M.D. is a board certified orthopedic surgeon and the founder of the Connecticut Foot & Ankle Institute in Middletown and Bloomfield, Connecticut and affiliated with Middlesex Hospital. Dr. Berson, who has performed hundreds of surgical and non-surgical procedures, recognizes foot pain is an increasing problem today due to more active life-styles and the more interesting shoe styles. That is why his Connecticut Foot & Ankle Institute offers the latest in minimally invasive techniques for painful bunions, heel pain, ankle injuries, sports and work-related injuries-essentially everything between your ankle and the bottom of your foot.

Dr. Berson is not only committed to providing quality healthcare, he is committed to enhancing the quality of life in the community. Dr. Berson enjoys road biking, mountain biking, skiing with his familiy and sponsors community programs such as little league and is a board member of a local school.

Dr Berson is an owner of MCAOS
Patient Testimonials
Exemplary model of the highest standards!

"This facility is an exemplary model of the highest standards. This is my second time in your care and the quality continues to be excellent in competence and compassion of the staff, Doctors and nurses and state of the art facility. Thank you and keep up the great work. I continue to refer you to anyone I know in need of the services you provide.""
- Anonymous
MCAOS Announcements
12/30/2013


MCAOS Receives Three Year Accreditation from Ambulatory Accreditation Association for Health Care
learn more >>

9/10/2013


Your Right To Know/ Advance Directives and Living Wills
learn more >>

8/19/2013


MCAOS Hours of Operation and Contact Information
learn more >>